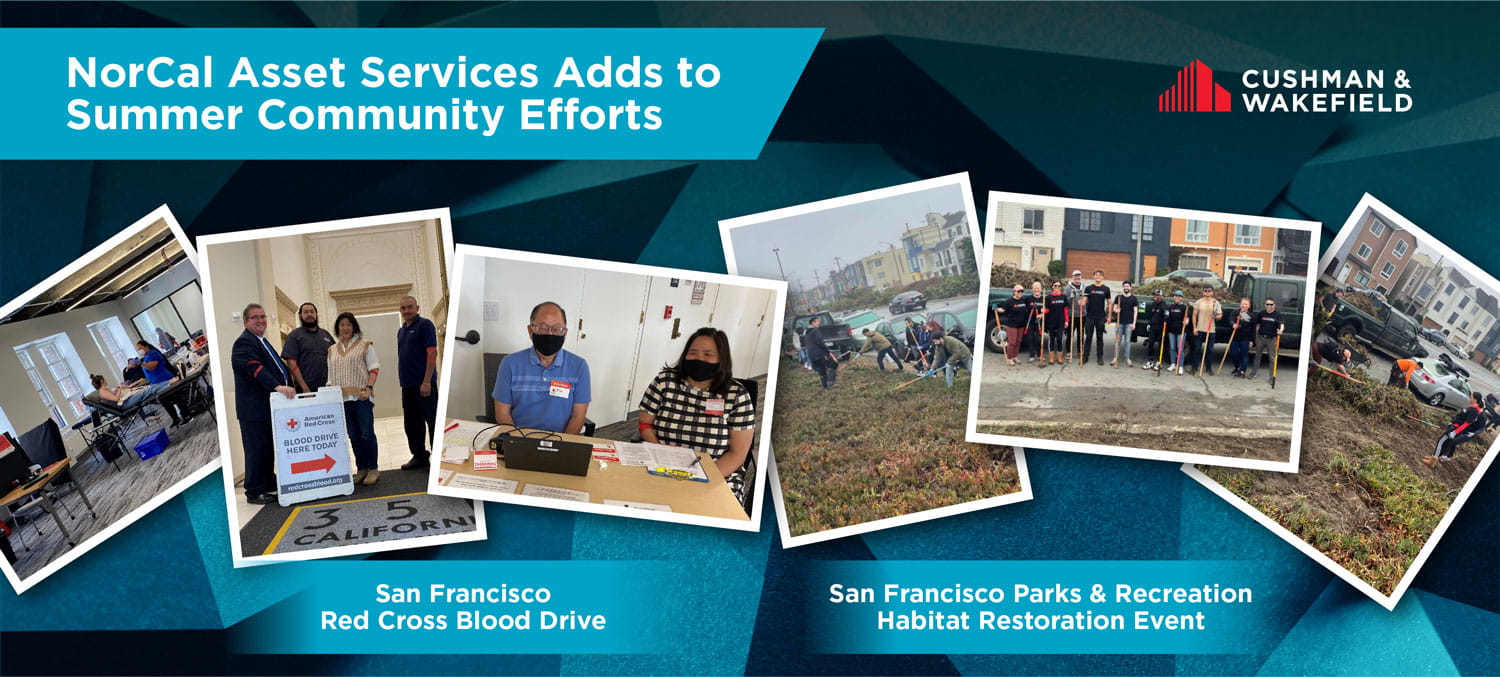 Cushman & Wakefield's (C&W) Asset Services in Northern California continues to prioritize their community by assisting different organizations in the region in a variety of ways. The team has contributed to a handful of community efforts this summer, which have included supporting three food banks in June, and more recently in July were a highly successful blood drive plus a highway restoration project in San Francisco.

On July 19, Cushman & Wakefield's NorCal Asset Services held its first American Red Cross SF Financial District Blood Drive, with participants including members from across the firm's regional offices. Held at 351 California St, and led by Katherine Daley, the C&W team rallied to collect an amazing 21 pints of blood in 5 hours! Due to the success of the blood drive, the American Red Cross invited Cushman & Wakefield to host another event next Spring/Summer 2023.

As an expression of gratitude, Cushman & Wakefield also provided lunch to donors, Red Cross staff, and C&W volunteers. A small raffle was also held for donors, with prizes including Red Cross Emergency Car Kits, Gott's Roadside gift certificates, and Peet's Coffee gift certificates. All donors were also automatically entered into the July Red Cross/Discovery Shark Week Raffle. Additionally, the neighboring property at 345 California St—that C&W also manages— kindly donated parking to the Red Cross staff.

C&W event volunteers and donors from Asset Services and Brokerage included Betty Lee, Brendon Kane, Mary Padilla, Bruce Tsuma, and Katherine Daley.

Katherine said, "Each blood donation can help save up to three lives and there has been a supply shortage throughout the pandemic. Ideally, we would like to see a blood drive each quarter. If you have a property with vacant space and you would like to partner with the American Red Cross to host a Tenant ESG Blood Drive event, contact me for more info."
On July 29, Cushman & Wakefield's NorCal Community Service Advisory Committee partnered with the San Francisco Department of Parks & Recreation for a habitat restoration event at the Great Highway! The team did an amazing job to help clear an entire block of invasive Ice Plant to create a walkway for the Sunset community. San Francisco plans to eventually remove all the Ice Plant and re-plant native species.

The C&W volunteer restoration team was led by Marco McCartney, and also included Daniela Grama, Ebony Horace, Amy Juang, Victor Lee, Jessica Lo, Andrew Mendoza, Lee Miller, Joshua Padilla, Annie Thai, and Carie Yox.

Cushman & Wakefield encourages you to assist your communities in any way possible!