Published Date : 16/09/2019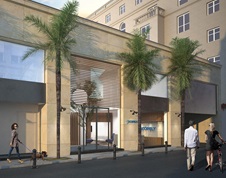 Scopely, an American company dedicated to interactive entertainment and the development of video games, will move its headquarters in Barcelona in October to a space of 2,400 square meters in the Sarriá - Sant Gervasi neighborhood. The new offices, located in the upper area, multiply by three the presence of the company in Barcelona.
Cushman & Wakefield has advised Scopely in the search for its new corporate headquarters, as well as in its design and construction, just as it did with its offices in Ronda Sant Pere two years ago. The objective of the project led by the real estate consultant is that the new space responds to the development needs of the company.
The transfer of headquarters in Barcelona is due to the growth of Scopely , which has resulted in an expansion of the company's workforce. The company will fully occupy the three floors of the building, in which it plans to further expand its equipment in areas such as engineering, video game design, data analysis, creative services and customer support, among others.
Scopely, founded in 2011 and landed in Barcelona at the end of 2017, has launched to market video games for mobile as Star Trek ™ Fleet Command or Looney Tunes ™ World of Mayhem , among others. The company is registering a significant expansion in Europe.
Carlos Pueyo, Partner and Director of Project & Development Services of Cushman & Wakefield, says that "Scopely was looking for an emblematic space that would put its employees at the center of the organization. The offices had to be fresh, modern, flexible and technological. In addition, they should have adequate alternative spaces to carry out those day-to-day tasks that enhance creativity and innovation."